Summer visits. The hot question is: what kind of gifts will delight the hosts? Here are five gifts that are sure to please.
1. Soft package

Soft packages were one of those unwanted gifts received at childhood Christmases, but the hosts will thank you when they receive new textiles for their sauna. The package can be put together according to your own budget. For example, a gray Laituri sauna pillow is suitable for all types of saunas and costs under 15 euros. You could add a fun addition to the package by including a linen terrycloth Rento Sauna hat, washing mitts or a hair towel. A suitable ensemble can be slipped into a Kenno Sauna bag.
2. Pampering
Hosts love to pamper themselves when on holiday. What could be nicer than taking good care of yourself during the summer. You can put together a suitable Rento body care package as a summer gift.
The entire body can be pampered with Rento Birch sauna honey. Washing with a brush is good for the skin, so you could also put a bamboo Rento wash brush in the gift bag. In a sauna, muscles will be able to relax and soften. A fun gift is Rento massage oil, which can be used to complete a blissful feeling.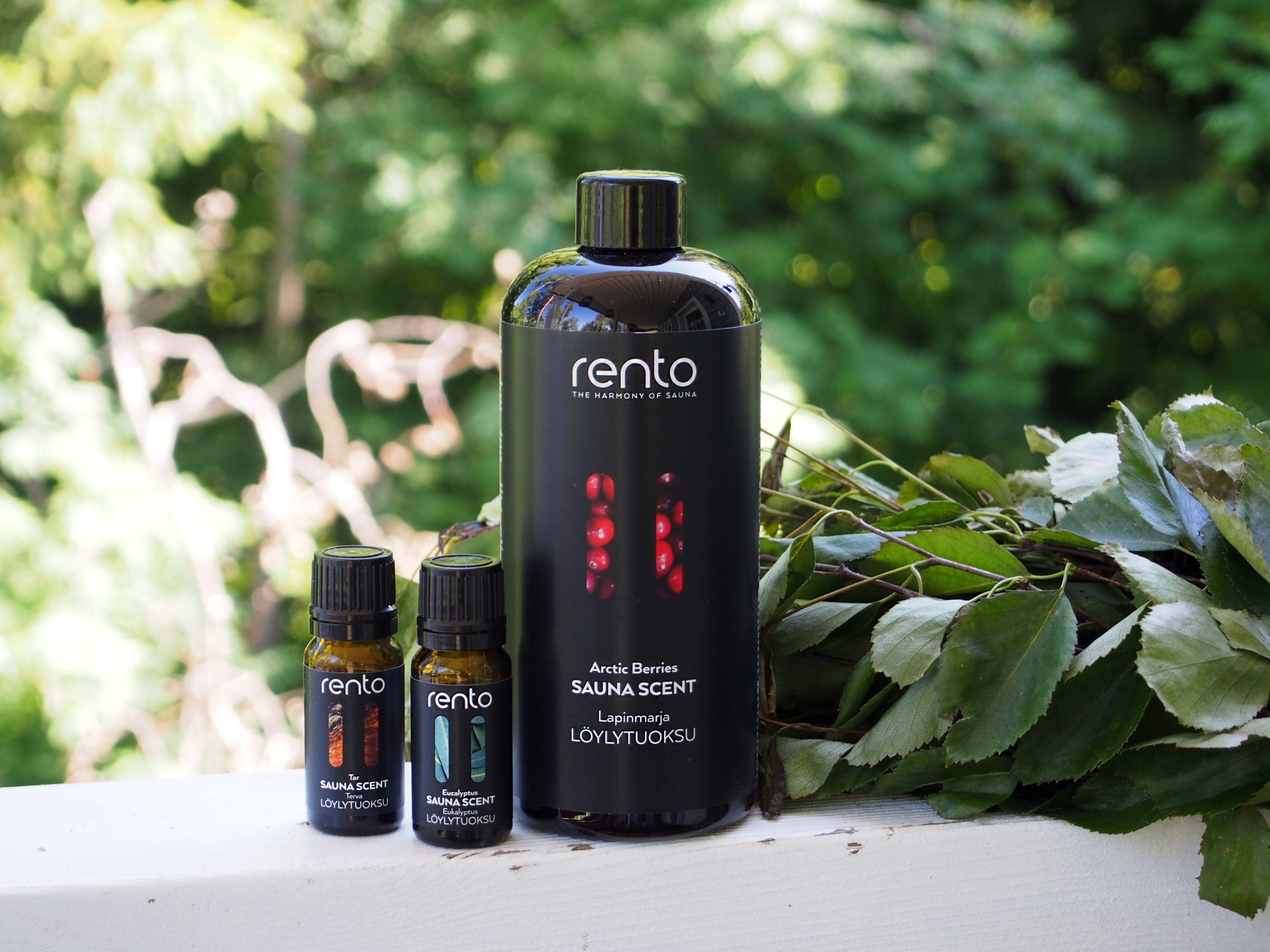 3. A fragrant gift

A fragrant gift is wonderful! The sauna experience can be intensified with a sauna scent. There is sure to be an element suitable for every sauna in Rento's selection of sauna scents. A really nice gift is a set of three scents, i.e. Rento-Sauna scent in a bamboo stand.
Rento's product selection also includes birch and forest pine as room scents. These are perfectly suitable to give as summer gifts.
You can also include Rento's sauna whisk as a fragrant gift, the aromas of which will envelop the sauna when used.
Fragrant gifts can be placed, for example, in a Rento sauna pail or bucket. If you want to expand your repertoire, you could add, for example, fresh herbs from a store or, of course, a classic gift – a bouquet of flowers – to the same container.
4. Invigorating red

A color can also be the theme of a summer gift. Right now, bright primary colors are trendy. Rento's sauna products can be used to put together a red gift, for example. Suitable products for this are a red Pisara pail set, which is made from domestic biocomposite. You can put together a refreshing red textile set when you include a red Laituri sauna seat cover and sauna pillow. Recycled surplus cotton from the textile industry has been used in the products of the series. A fun addition to this themed gift is, for example, a box of strawberries or raspberries.
5. Guaranteed elegance

Who wouldn't want stylish sauna products. If you know the host likes and want to put a little effort into the gift, you could check out the products of the Rento X Harri Koskinen cooperation collection designed by Harri Koskinen. The materials of the sauna pail, ladle, thermometer and firewood rack in the series are shiny steel, and the handles are made of birch.
Read more about all our Rento sauna products rentosauna.fi
Read next:
Summer house sauna – relaxation and treasured memories